Hiring a trainer can lead to achieving 99 percent better results.
Did you know
|
Personal Training
|
Tips and Tools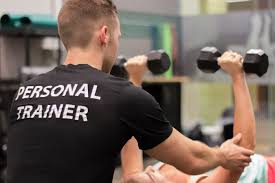 Hiring A Trainer Can Lead To Achieving 99 Percent Better Results
Have you ever thought to yourself,
 I am not seeing results from my workout routine
 I seem to get injured once in a while when I'm exercising
 Sometimes I do not know exactly what muscle I should be feeling when exercising with weights  
 How can I be sure if I am doing the right exercises or doing them correctly
If your response was yes to any of the statements above, it may be time to take a look at your exercise plan and see if a professional can assist.
At SWEAT Fitness – Stockton, our trainers often observe and inform our clients when a small adjustment to positioning when performing an exercise can change EVERYTHING.  As a coach we witness this happening quite often.  There are many times when we've suggested a small adjustment in a client's form, then we hear phrases like
"OMG! that doesn't hurt now", or
"Oh, NOW I feel it in that spot!", and
"I totally didn't know I was supposed to feel it there!"
There are a few things  you should know:
On Your Journey To Achieving 99 Percent Better Results, Exercise Is Not Supposed To Hurt You
The old adage, "No pain, no gain" is a myth.  Exercise should not hurt you– if it is, most likely you are doing it incorrectly.  You may also have an underlying problem that needs to be addressed.  Our excellent trainers at SWEAT Fitness – Stockton make sure that the exercises you're doing are appropriate for YOU and we correct your form so that you don't get hurt.  The bottom line, you stay healthy so that you can keep coming back to the gym and achieve the desired results.
You Should Know "Where You're Supposed To Feel It" 
Ever do an exercise and not know if you're doing it correctly, or if you are even feeling it in the right spot?  Well, you should know!  At the very least you should be able to trust that the exercises you're doing are working right.  Your personal trainer/coach at SWEAT Fitness – Stockton is trained to make sure you're "feeling it" in the right spots and that you are doing the exercises that WILL give you the results you are looking for, in a reasonable time frame.
Finally, When You Are Hiring A Personal Trainer,
You should expect to begin seeing noticeable improvements in strength.  The exercises you're doing should start to get easier or you should be able to do more or add heavier weight to them, or progress to a harder version.  You should always be learning from the trainer.  Each session with your trainer, you should walk away with just a bit more knowledge.
Invest In Yourself
You should be getting exposed to different and new exercises and coached to use proper form.  These methods will contribute to your growth.  Initially, the weight used may have to be reduced, but eventually, your strength will increase and you will begin to see the benefits in time.  Your form will get better as you get closer to your goals.  If you don't have anyone coaching and correcting you, how will you know you are not just wasting your time, efforts, and ultimately money?
Small corrections to your form can make a big difference, as well as making adjustments to your repartitions counts, exercise sequences, and weight amount.  Make sure you have a coach who is a professional certified trainer and can help you with form correction.
The contents of this article and the overall idea were contributed by Michelle McCabe, GFP Trainer; and was rewritten in April 2021 by Coach Rodger, Co-owner at SWEAT LLC