FACTS: Differences between Pfizer and Moderna? Which COVID Vaccine Causes Fewest Reactions?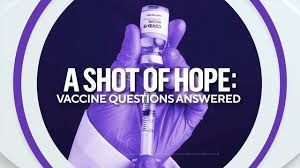 Pfizer? Moderna? (or wait for the Johnson & Johnson?)  Which COVID Vaccine causes the fewest reaction?
When it becomes available to you, strongly consider getting the vaccine after talking with your doctor — current data shows it can help protect you
To find out more about who can get the vaccine and who should not be vaccinated, read about whether pre-existing conditions should stop you from getting the vaccine.
The vaccine is free (for now)
The cost of the vaccine will be covered by Medicare and most insurance plans, some even if received outside your network. However, certain alternative healthcare plans (ex: short-term limited-duration insurance) may charge a copay. People who are uninsured can be vaccinated for free. Their healthcare providers will need to submit a reimbursement claim to the Provider Relief Fund.
Fact or Myths
FACT: You can't get COVID or spread it from the vaccine
The mRNA vaccines don't contain viruses. They instruct your body to make a protein found on the virus that triggers an immune reaction, creating immunity to the virus.

The mRNA never enters the cell's nucleus, so it never interacts with or becomes part of your DNA. It also doesn't stick around inside the body — it's broken down once the protein is made.

FACT: It's critical to get the 2nd shot!
You may only get about 52% protection between the first and second shot but 94% to 95% after the second. Come back about 21 days later for Pfizer and 28 days later for Moderna's second doses

(while the second dose should be given as close to this recommended interval as possible, it's okay to get it up to 4 days early or up to 6 weeks after the first dose. Even if you miss the extended interval, you should still get your second shot, although you'll have less protection during that time).

If you get the first shot, use v-safe to set a reminder on a smartphone for when to get a second shot, as well as to reports side effects.
What to expect
Be prepared for side effects, especially after the 2nd shot
Injection site pain (typical for any vaccine) and flu-like symptoms are the most common side effects for both the Pfizer and Moderna vaccines. These side effects are typically short-lived and not severe.
The vaccine takes about 7 days to work after the 2nd shot
Don't assume you're protected from COVID-19 immediately after receiving the second shot, and certainly not during the 21 to 28 days between the first and second shot.
Even after being fully vaccinated, for now, continue to follow guidelines for social distancing and wearing masks.
As each state in the U.S. is in charge of its own vaccine rollout, we've put together the table at the end of this article to help you get information on what's happening in your state (see table below).
How the Vaccines Compare
Comparison of FDA-Authorized Vaccines
Pfizer / BioNTech
(mRNA)
Moderna
(mRNA)
Efficacy
After 1st dose: 52% (Some protection as early as 10 days after 1st dose).

After 2nd dose: 95%

Also after 1st dose: Not known

And after 2nd dose: 94% (Efficacy in those 65 and older is a little lower, about 86%; however, overall, some evidence of greater protection against severe disease)

Most Common Side Effects
Injection site pain, fatigue, headache, muscle pain, chills, joint pain, fever; more common after 2nd dose. Side effects noted to be lower in people 56 and older.
Injection site pain, fatigue, headache, muscle pain, joint pain, chills, nausea/vomiting, fever; more common after 2nd dose.

Side effects after 2nd dose more common with Moderna than Pfizer.

Facial swelling in 2 people with a history of dermal (skin) fillers has also been reported 1-2 days after the last dose.

Duration of side effects
Can last several days
Typically one day, but can last up to one week
Serious allergic reaction
Low rate of severe allergic reactions (4.7 cases per million doses) but nearly double the rate for Moderna.

Treatable with epinephrine. Affected people should not receive 2nd dose.

Low rate of severe allergic reactions (2.5 cases per million doses).

Treatable with epinephrine. Affected people should not receive 2nd dose.

Where to Get
Requires very low-temperature storage, so availability may be more limited to hospitals and specialized settings.
Requires only regular refrigeration, so maybe more broadly available, such as in doctor's offices, clinics, rural locations.
Ingredients (per dose)

(Note: PEG is polyethylene glycol)

30 mcg nucleoside-modified mRNA
Lipids (fatty substances)

(4-hydroxybutyl)azanediyl)bis(hexane-6,1-diyl)bis(2-hexyldecanoate)
2[PEG 2000]-N,N-ditetradecylacetamide
1,2-distearoyl-sn-glycero-3-phosphocholine
Cholesterol

Potassium chloride
Monobasic potassium phosphate
Sodium chloride
Dibasic sodium phosphate dihydrate
Sucrose (sugar)

100 mcg nucleoside-modified mRNA
Lipids (fatty substances)

SM-102
PEG 2000 dimyristoyl glycerol (DMG)
Cholesterol
1,2-distearoyl-sn-glycero-3-phosphocholine (DSPC)

Tromethamine
Tromethamine hydrochloride
Acetic acid
Sodium acetate
Sucrose (sugar)
First dose efficacy
Based on adverse reports from several million vaccinations in the U.S. through mid-January, 2021 the safety profiles of the Pfizer and Moderna vaccines are consistent with the safety profiles observed during the pre-authorization clinical trials (CDC, COVID-19 Vaccine Safety Update 2021).
What we know
Be aware that some data with the Pfizer vaccine showed that it had no efficacy in the general population until day 14, with the incidence of new infections actually increasing until day 8 after first-dose vaccination, which the researchers hypothesized may have been caused by vaccinated people being less cautious reducing exposure risk, highlighting the importance of adherence to safety measures even after being vaccinated (Hunter, medRxiv 2021 — preprint).
Risks
The risk of new infections drops dramatically thereafter, with a 51.4% reduction in infections 13 to 24 days after the first dose relative to the first twelve days (Chodick, medRxiv 2021 — preprint). On a day-by-day basis, the estimated effectiveness of the first dose was shown to increase each day from day 14 until day 21 — at which time the actual incidence of infection was reduced by 91% compared to the first 12 days (Hunter, medRxiv 2021 — preprint). This is consistent with a report from the UK that re-analyzed cases of infection that occurred during the Pfizer pre-authorization trial on only days 15 through 21 after the first dose and found that the vaccine efficacy during this time interval was 89% compared to placebo.
While this evidence strongly suggests that just one dose of an mRNA may provide significant protection against COVID-19 within three weeks, it is uncertain how long immunoprotection persists. The second dose significantly boosts immune responses and is the basis for the vaccine's efficacy in clinical studies.   In the U.S. you are strongly recommended to get both doses of the mRNA vaccines.
Second dose efficacy
Analysis of data from Israel among more than 1.7 million people who received both doses of the Pfizer vaccine estimated the vaccine's effectiveness in preventing severe disease to be in the range of 87% to 96%. To prevent SARS-CoV-2 positive cases (that is, any level of disease), its effectiveness was in the range of 66% to 85%. This shows that a significant number of infections can still occur, although few will be severe. Vaccine effectiveness was somewhat greater among those younger than 60 than among older people (Aran, medRxiv — preprint).
When, Where, and How to Get the Vaccine
The Advisory Committee on Immunization Practices (ACIP), a group of medical experts that develops recommendations for vaccine use in the U.S., has advised the Centers for Disease Control and Prevention (CDC) that the vaccines be provided in phases as shown in the table below, although states do not have to abide by these recommendations (Dooling, MMWR Morb Mortal Wkly Rep 2021).
The vaccine offered may depend on the setting, e.g., due to special refrigeration requirements (see comparison table), access to the Pfizer vaccine may be more limited to hospitals and specialized settings.
Information provided by ConsumerLab.com