What does the Governor's lifting of the Stay-at-home order mean?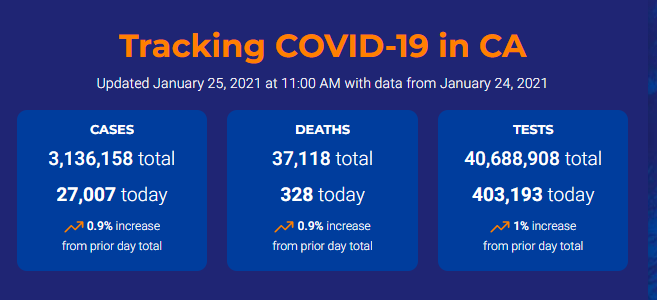 1/25/21 Governor Newsom lifted the state-wide stay-at-home order today so, what does that mean for SWEAT?
Common Questions and Answers
Q: Can SWEAT reopen?
A: No, and here's why.  The stay-at-home order was based on ICU availability in the various regions across the state that have dropped below 15% ICU availability.  Reopening is dependent upon the tier level in specific counties within the regions.  San Joaquin county is still in the Purple tier, the highest, most restrictive tier.  In order to move down into the Red tier, we have to reach and remain at the levels shown below for a period of 14 consecutive days.
Here are the levels for the tiers and our current levels in San Joaquin County:
TIER                      DAILY NEW CASES*           POSITIVITY RATE**
Purple                   More than 7.0                         More than 8.0%
Red                        4.0 – 7.0                                   5.0 – 8.0%
Orange                  1.0 – 3.9                                    2.0 – 4.9%
Yellow                   Less than 1.0                          Less than 2.0%
San Joaquin          88.7                                         17.2%
*  7-day average of daily COVID-19 cases per 100K with 7-day lag, adjusted for the number of tests performed
** 7-day average of all COVID-19 tests performed that are positive
Q: When do you think SWEAT will be able to re-open?
A: With where we are today versus where we need to be in order to reach the Red tier, our best estimate is when we reach Herd Immunity, sometime in the 3rd quarter of 2021 (July-September).
What is Herd Immunity?
Herd immunity is a form of indirect protection from infectious disease that occurs when a sufficient percentage of a population has become immune to an infection, whether through vaccination or previous infections, thereby reducing the likelihood of infection for individuals who lack immunity (due to not receiving the vaccination).
Immune individuals are unlikely to contribute to disease transmission, disrupting chains of infection, which stops or slows the spread of disease.
The greater the proportion of immune individuals in a community, the smaller the probability that non-immune individuals will come into contact with an infectious individual.
Q: I heard that other gyms are disregarding the orders and have opened, will SWEAT do the same?  
A. No, not until the Governor's data says it's safe!  We trust and are guided by recommendations of the medical experts at the CDC, and W.H.O.  First and foremost, the health of our SWEAT team, our SWEAT family, members, and guests are what drives the SWEAT Team.  The owners of SWEAT live by the principle that people's lives are more important than financial gains.  We will stand by our principles, even if it means we go out of business!
Additional Information
For more information on what policies SWEAT has put into place to keep our members and guest who visit our facility safe, and, what you can do in the meantime to stay active, healthy, and fit, click the links to check out any of these previous articles